Locksmith in Hanover, MD
ServLeader locksmiths in Hanover, MD will come quickly after your call and assist you with your lockout situation. Lockouts are annoying and stressful. Naturally, they typically happen at the most inconvenient times. It's good to know that ServLeader is available 24/7, Monday through Sunday, 365 days a year, and will answer your call immediately. 
Our vans are fully stocked and there is always a Hanover MD locksmith store specialist ready to take your call and provide the fastest possible resolution to your issue.
As a leading Hanover, MD locksmith company, our locksmiths are experienced, knowledgeable, and highly trained. We offer affordable costs, and upfront pricing, and adhere to our agreed terms of service so that you feel secure and confident.
ServLeader has the expertise and tools to unlock any type of vehicle, from cars and vans to RVs. Our reliable locksmiths can unlock all door lock types in residential and commercial buildings, without causing any damage to the door itself. No lock can resist our experts!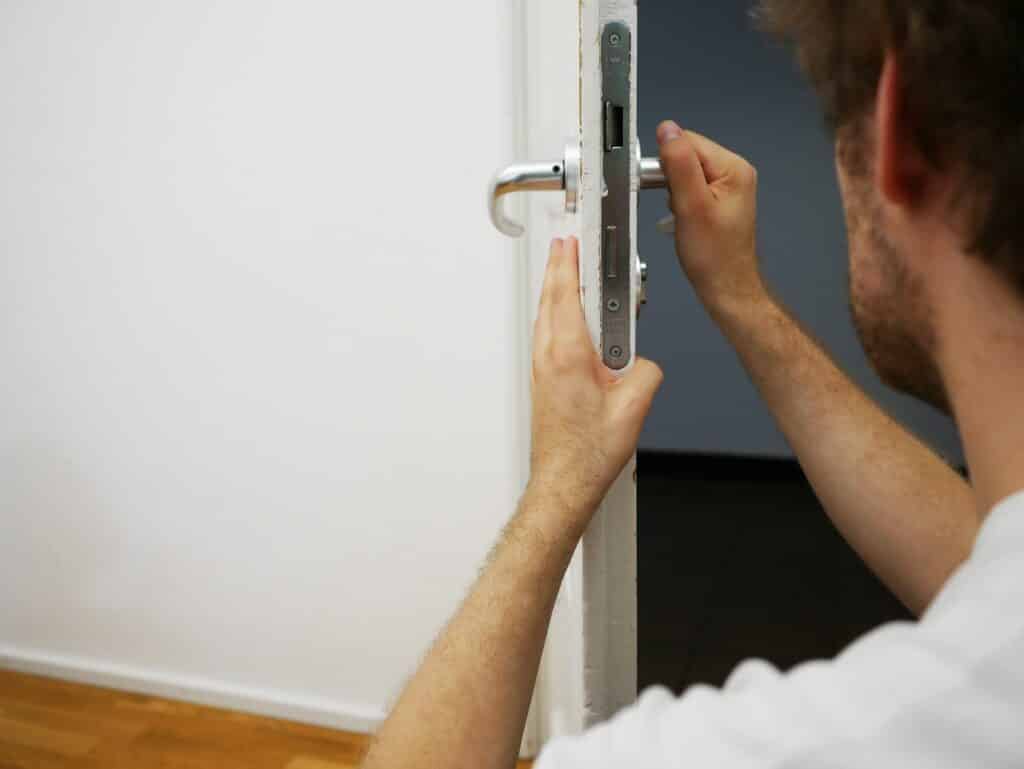 Residential locksmith Hanover, MD
Did you lock yourself out of your house when you need to be on your way to work? Did your key get jammed in your home's entry door?
No matter how frustrating it is, don't attempt to unlock the door yourself! You could damage the whole lock and cause extensive damage. Call ServLeader in Hanover MD instead, and our locksmiths will be with you as soon as possible to help you. 
With the right tools and equipment and our expert knowledge, we can unlock the lock without damaging the lock itself. Our locksmiths can unlock any type of lock and we can re-key, replace, and re-issue keys for your home. 
If you have lost your home key, we can issue new ones without changing the lock, saving you time and money. 
If you feel that your home could benefit from improved security, ServLeader can install new, better-performing locks, security systems, and alarm systems inside and outside your home. We can also install new entry doors and internal doors if you want to upgrade your home's look and security. 
A locksmith in Hanover, MD for your business
Your business is supposed to be open and welcome customers. When a door gets jammed or a lock malfunctions, you are losing potential income and your business suffers. 
ServLeader locksmiths in Hanover, MD are trained and fully equipped to tackle any lockout emergency at your business. We have extensive experience offering locksmith services to all types of commercial establishments including offices, storage facilities, government buildings, and the hospitality industry. 
We are reliable, trustworthy, and experienced locksmiths and we can give you access to your business very quickly. 
As a business owner, you might feel it's time to upgrade your business security system. With ServLeader you know you are getting state-of-the-art locks and security solutions for your business with improved security features such as remote control and monitor, and keyless entry, employing the latest technology. Our services include the installation and repair of master key systems, a security solution that allows for multiple levels of access control.
Automotive locksmith Hanover, MD
Is your car key jammed in your car's ignition? Did you lock your car key inside the car? There is no need to panic because ServLeader in Hanover, MD is already on its way. 
As expert automotive locksmiths, we can help you with any car lockout emergency. We can repair a broken ignition and free the key and we can also open the car trunk of any model, make, and brand. Our reliable locksmiths will give you access to your car, re-issue keys, re-key your car key, and duplicate your car keys, and transponder keys.
Specialized locksmith services in Hanover, MD
ServLeader locksmiths have the expertise to install, repair and unlock any GSA-certified vault, lock, safe, and security containers.
If your business is dealing with sensitive documents and valuables, kept in specialized vaults with high-security locks, ServLeader offers the best commercial locksmith services for lock repair and installation. If you get locked out, the ServLeader locksmiths will unlock the specialized locks of your security containers, and help you regain access.
We can also unlock, install and move safes and gun safes. When you move to a new home, you need specialized locksmith expertise to move your safe. If it's a gun safe, you need experts with the proper knowledge and protective gear to manage the gun safe move. ServLeader can take care of this delicate project, from beginning to end. 
Our services range from emergency locksmith services to lock installation and repair services.
Get in touch with us today and take advantage of the best locksmith services in Hanover MD for your home or business. We are your local locksmith experts, committed to providing you with the best possible locksmith service, and with excellent reviews from our customers on every job we complete. Contact us to schedule an appointment or to request emergency assistance in your area. We look forward to serving you!
Call ServLeader today for all your Locksmith service in Hanover MD – (202) 240-1177
Frequently Asked Question ​
Do you provide commercial lockout services in Hanover, MD?
ServLeader locksmiths can take care of any lockout emergency for your business. We have worked with numerous businesses across Hanover, including offices, institutions, storage spaces, restaurants, factories, and office buildings and we have the know-how to open any commercial door.
We can install high-security locks with improved safety features to maximize your business safety.
How fast can you come to my car lockout emergency in Hanover, MD?
We are local locksmiths, and our vans and expert technicians can be with you very quickly. We understand that a car lockout emergency can be upsetting and infuriating, especially if you need to be somewhere like your work or your children's school. We truly value your time. Thanks to our mobile vans, our locksmiths can be with you as soon as you call us.
Do I know upfront how much it's going to cost me?
Our customers praise us for our upfront pricing and we stand by our reputation. We will tell you beforehand how much our locksmith work is going to cost. We draw on years of experience so that we can offer you accurate upfront pricing.
We value our customers and we believe it is essential to give them a sense of security.
Do you need to replace my lock when you work on my lockout situation?
A professional locksmith has the right expertise and tools to unlock a door without damaging the lock itself. If needed, we will rekey the lock without changing it. Our goal is to provide quality locksmith services at affordable prices.
Can you make keys from a lock?
ServLeader locksmiths can make keys from a lock even if we don't have the master key. Instead of changing the whole lock, we make the keys so that they match the lock. Our skilled lock technicians can give you full access to your doors and absolute security.